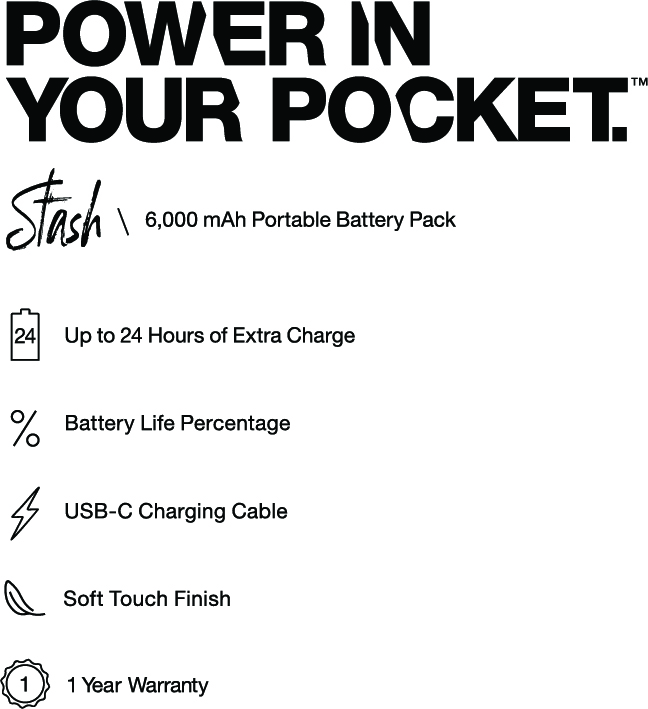 POWER ON THE GO.
Stash™ Portable Battery Packs an entire day's worth of power. Depending on the size of the device you're charging, you can count on a power boost from Stash when you need it most—from 24 hours on your phone to 6 hours on a large tablet.
TECH SPECS
Product Type: External Battery Pack
Capacity: 6,000 mAh
Inputs: Micro-USB, USB-C
Outputs: USB-A, USB-C
Total Output: DC5V/3A (Max)
Size: 125 x 69 x 12mm
Operating Temp: 10˚C -40˚C
STASH™ PORTABLE POWER BANK IS COMPATIBLE WITH:
Mobile phones

Tablets

Crusher 360 Ultra-Realistic Audio Headphones

Venue Active Noise Canceling Wireless Headphones

Crusher Wireless Headphones

Hesh 3 Wireless Headphones

Hesh 2 Wireless Headphones

Riff Wireless On-Ear Headphones

Grind Wireless Headphones

Uproar Wireless Headphones

Barricade XL Wireless Speaker

Barricade Wireless Speaker

Barricade Mini Wireless Speaker
Does Stash™ Portable Battery Pack have a warranty?
Yep! 2 years. For more information, click here.